Overview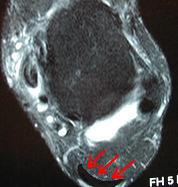 Achilles Tendonitis is a term that commonly refers to an inflammation of the Achilles tendon or its covering. It is an overuse injury that is common especially to joggers and jumpers, due to the repetitive action and so may occur in other activities that requires the same repetitive action. Most experts now use the term Achilles tendinopathy to include both inflammation and micro-tears. But many doctors may still use the term tendonitis out of habit.
Causes
Achilles tendonitis is an overuse injury. Too much too soon is the common cause of overuse injuries, however other factors can contribute to developing the condition. An increase in activity, either distance, speed or a sudden change to running up hills. As a rule of thumb distance runners should increase their mileage by no more than 10% per week. A change of footwear or training surface for example suddenly running on soft sand can cause the heel to drop lower than normal making the tendon stretch further than it is used to. Weak calf muscles can tighten or go into partial spasm which again increases the strain on the achilles tendon by shortening the muscle. Running up hills - the achilles tendon has to stretch more than normal on every stride. This is fine for a while but will mean the tendon will fatigue sooner than normal. Overpronation or feet which roll in when running can place an increased strain on the achilles tendon. As the foot rolls in (flattens) the lower leg also rotates inwards which places twisting stresses on the tendon. Wearing high heels constantly shortens the tendon and calf muscles. When exercising in flat running shoes, the tendon is stretched beyond its normal range which places an abnormal strain on the tendon.
Symptoms
Most cases of Achilles tendonitis start out slowly, with very little pain, and then grow worse over time. Some of the more common symptoms include mild pain or an ache above the heel and in the lower leg, especially after running or doing other physical activities, pain that gets worse when walking uphill, climbing stairs, or taking part in intense or prolonged exercise, stiffness and tenderness in the heel, especially in the morning, that gradually goes away, swelling or hard knots of tissue in the Achilles tendon, a creaking or crackling sound when moving the ankle or pressing on the Achilles tendon, weakness in the affected leg.
Diagnosis
To confirm the diagnosis and consider what might be causing the problem, it?s important to see your doctor or a physiotherapist. Methods used to make a diagnosis may include, medical history, including your exercise habits and footwear, physical examination, especially examining for thickness and tenderness of the Achilles tendon, tests that may include an x-ray of the foot, ultrasound and occasionally blood tests (to test for an inflammatory condition), and an MRI scan of the tendon.
Nonsurgical Treatment
The aim of the treatment is to reduce strain on the tendon and reduce inflammation. Strain may be reduced by, avoiding or severely limiting activities that may aggravate the condition, such as running, using shoe inserts (orthoses) to take pressure off the tendon as it heals. In cases of flat or hyperpronated feet, your doctor or podiatrist may recommend long-term use of orthoses. I8nflammation may be reduced by, applying icepacks for 20 minutes per hour during the acute stage, taking non-steroidal anti-inflammatory drugs, placing the foot in a cast or restrictive ankle-boot to minimise movement and give the tendon time to heal. This may be recommended in severe cases and used for about eight weeks. Occasionally depot (slowly absorbed) steroid injections may be tried, particularly for peri-tendinitis, but great care needs to be taken to avoid injecting into the tendon. This should only be done by a specialist doctor. You may also be given specific exercises to gently stretch the calf muscles once the acute stage of inflammation has settled down. Your doctor or physiotherapist will recommend these exercises when you are on the road to recovery. Recovery is often slow and will depend on the severity of the condition and how carefully you follow the treatment and care instructions you are given.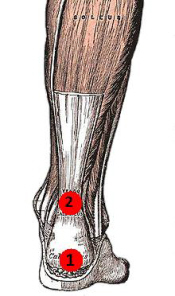 Surgical Treatment
Treating this surgically, there are numerous methods to repair the tendon. Most commonly, Achilles tendon is exposed through an incision at the back of the ankle. After identifying both ends of ruptured tendon, the edges got trimmed and then both ends were sutured together with optimal tension. To get a better outcome with fixation, an anchor may have to be in place in calcaneus, provided the rupture is very low. Care must be taken to avoid injuries to the nerves located adjacent to the tendon.
Prevention
Your podiatrist will work with you to decrease your chances of re-developing tendinitis. He or she may create custom orthotics to help control the motion of your feet. He or she may also recommend certain stretches or exercises to increase the tendon's elasticity and strengthen the muscles attached to the tendon. Gradually increasing your activity level with an appropriate training schedule-building up to a 5K run, for instance, instead of simply tackling the whole course the first day-can also help prevent tendinitis.